Once upon a time, I wrote about my first feature.
A "big" blog featured my garden sign/storage.
That seems like so long ago. Since then, there have been a few other features.
As a means of recording those features, there is a page at the top that says "Featured At". Here you will find a list of all the places that have put up my crafts. Many of them show the same craft but it is a good way to "get to know" new blogs, if you are interested.

The most recent one was today at SPUNKY JUNKY. They featured my map curtain.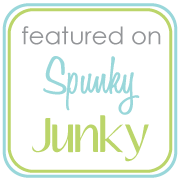 Click on the button to visit her cute blog.